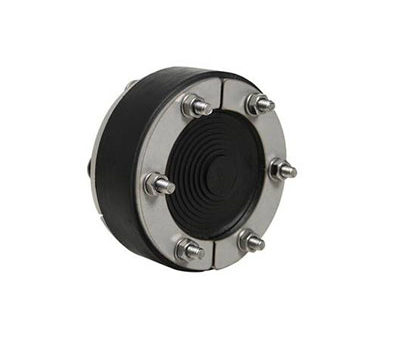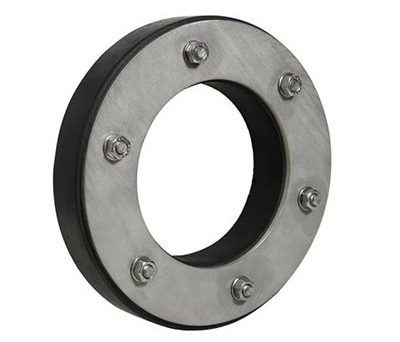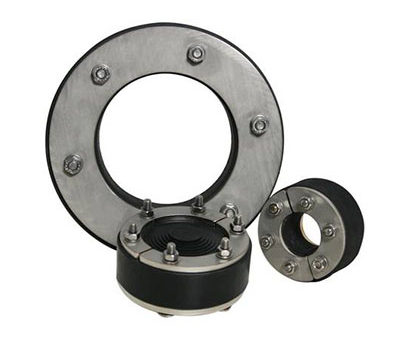 Our Pipe-Seal compact seals are designed for universal use in civil engineering in the sectors of power, gas and water distribution.
They are suitable for the sealing of pipes and core-drilled holes with any diameter and can be installed inside a wall sleeve as well as directly inside a core-drilled hole. By tightening the screw nuts, the metal plates are pressed against the rubber seal ring, so that the elastomer ring expands steadily in all directions and reliably seals the pipeline.
These seal inserts also provide guiding aid and offer acoustic uncoupling.
• Single sealing (closed)
• Single sealing (split)
• Double sealing (closed)
• Double sealing (split)
• Multiple penetration
• Variable penetration DN 100
Options
• EPDM 30mm
EPDM 40mm
EPDM 60mm (2 x 30mm)
• KTW 30mm
KTW 60mm (2 x 30mm)
• Nitrile* 30mm
Nitrile* 60mm (2 x 30mm)
• FKM Viton 30mm (3 x 10mm)
FKM Viton 60mm (6 x 10mm)
• Silicone on request
Nitrile: not UV-/weather-resistant
Steel elements: V2A/AISI 304, V4A/AISI 316Ti
Advantages
• Standard version for all common carrier pipes
• Special customized versions
• Multiple-penetration type
• Single sealing and double sealing
• Version for subsequent installation with split pressure plates
• Against pressing water
• High-quality EPDM rubber
• Bending of the carrier pipe possible up to 8°
• Rings and connecting elements made of stainless steel V2A/AISI 304
• Layered ring version DN 100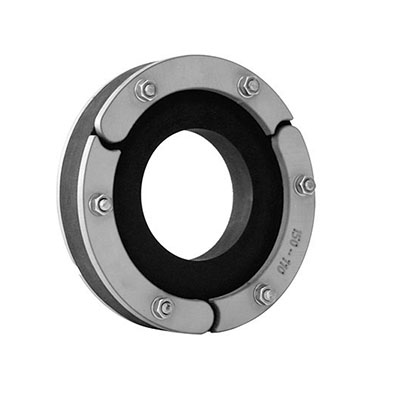 Closed rubber seal insert in segmental construction
Features
Single-layer 20mm – pressure level 1,5 bar
Double-layer 40mm – pressure level 3 bar
Steel elements V2A/AISI 304 tight against pressing water and gas (EPDM)
Subsequently separable on site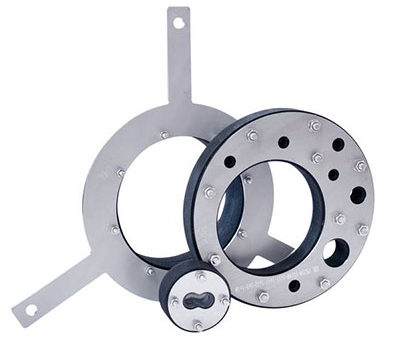 Special designs like
Eccentric position of the carrier pipe

Additional fastening straps

Three-layered seal inserts

Equipped with test couplings and much more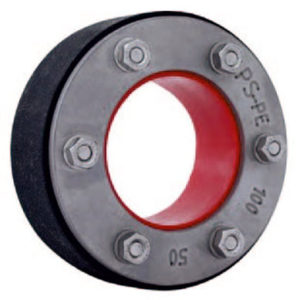 Compact seal insert particularly suitable for:
Thin-walled plastic pipes
Plastic-covered pipes (district heating)
Our Pipe-Seal Hybrid (PE) is a seal insert is a two-component construction with an external round frame of medium-hard solid rubber and an internal seal insert of soft thermoset elastomer.
The medium-hard solid rubber core absorbs the compressive or pressing force and transfers and distributes the medium. The soft inner ring acts as a seal towards the carrier pipe.
The extra soft seal insert adapts itself perfectly to the surface of the carrier pipe. High compressive or pressing forces are not necessary. A cold flow, which leads to cross-sectional tapering especially with polyethylene-(PE)-pipes, is nearly ruled out.
Even with a low torque of the screw connection, the seal insert sits firmly in the annular space (against pressing water and gas) as it adheres very well to the surface of the carrier pipe. The insert can be installed without any special tools (torque wrench) by visually inspecting the edges of the pressure flange (red bulge).
Optional:
Splitted version is avaliable according to customer request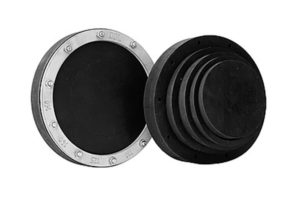 For on-site adaption to the outside diameter of the carrier pipe
Features
Sealing element single-layered 30mm, single-layered 40mm EPDM starting from DN 250

Tight against pressing water and gas (EPDM)

Steel elements V2A/AISI 304, V4A/AISI 316Ti

For use in sound protection in accordance with 4109

Low-cost storage

Optionally with large flange
Version
Sealing element single layer, 30 mm (pressure tight up to 20 mWS / 2 bar)

Steel elements in V2A / AISI 304, V4A / AISI 316 Ti

For use in sound protection in accordance with DIN 4109

Closed and split version available

Layered ring plug made of PUR material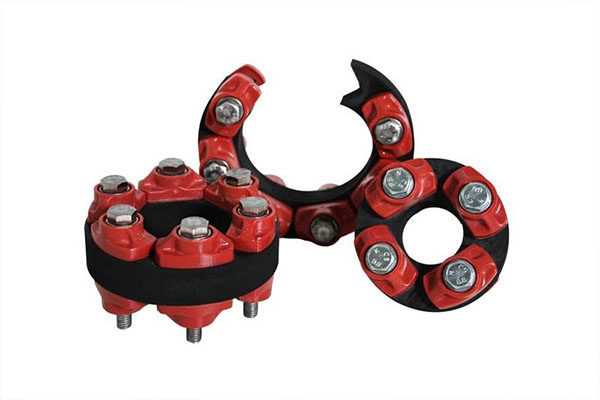 Our Lu-SW building entry consisting of a compact EPDM elastomer ring and flexible segmental pressure plates will save you a lot of time and effort due to its split and custom-fit construction. It can be easily installed subsequent to the installation of the carrier pipe by simply opening the seal insert, putting it around the carrier pipe, inserting it into the core-drilled hole or the wall sleeve, and tightening it. It is not necessary to dismantle the carrier pipe beforehand.
The pressure plates are furnished with a surrounding wedged rim which is forced into the elastomer ring when tightening the screws. This will transfer the starting power directly to the seal ring and prevent the rubber from oozing out at the sides or from under the pressure elements. The pipe penetration can be equipped with connecting elements made of galvanized or stainless steel on request.
Advantages
Flexibility due to segmental pressure plates

Compact elastomer ring (split)

High-quality EPDM rubber

Eaasy handling – no dismantling needed in case of subsequent installation

Custom-fit construction for core-drilled hole and carrier pipe

Pressure-tight up to 20 mWS (2 bar)




Excellent value for Money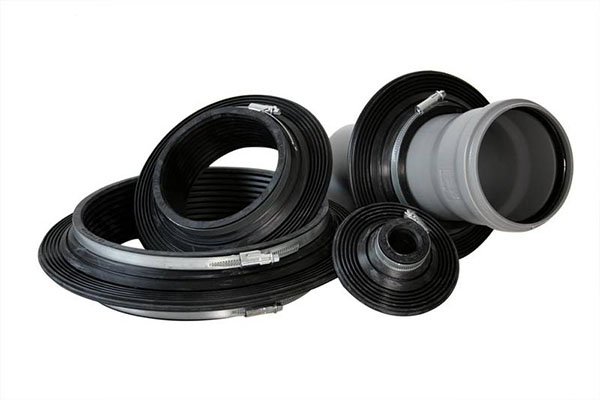 The wall collar provides a fast and easy way to lead pipes through wall penetrations in walls and base tiles.
The elastomer collar made of high-quality EPDM rubber is moved onto the middle of the pipe and fixed with two tightening straps on each side of the collar flange by tightening the turnbuckles.
If the different expansion coefficients of the wall and the carrier pipe result in a gap and water pours in due to capillary action, the wall collar will be there to interrupt and stop the route of the water.
The carrier pipe equipped with the wall collar is shuttered and grouted. These pipe penetrations are tight against pressing water.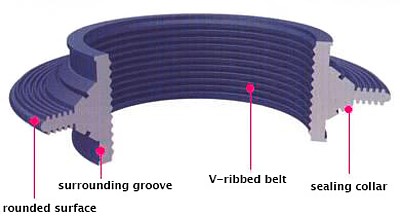 Wall collar MK-KG (cross section)
Inside diameter with tight-fitting V-ribbed belt

Wall collar guarantees a secure hold

Sealing collar with interior reinforcement groove provides form stability and safety during the masonry

Distinctive tread depth at the sealing collar provides a secure hold in the filling even under extreme installation conditions

Easy intrusion of the filling due to the rounded edges on the surface

Surrounding groove guarantees a proper fit of the refined tightening straps

Tightening straps are adapted to the dimensions

Elasticity of the wall collar allows installation on pipes made of different materials

Diameters indicated on both sides